Lucie Sovová
My doctoral research explored the role of urban gardens in people's food provisioning practices, framing them as spaces of diverse food economies operating largely outside the market. In order to understand how gardens work as food sources, I observed the food provisioning practices of 27 households involved in gardening in Brno, Czechia, throughout a period of one year.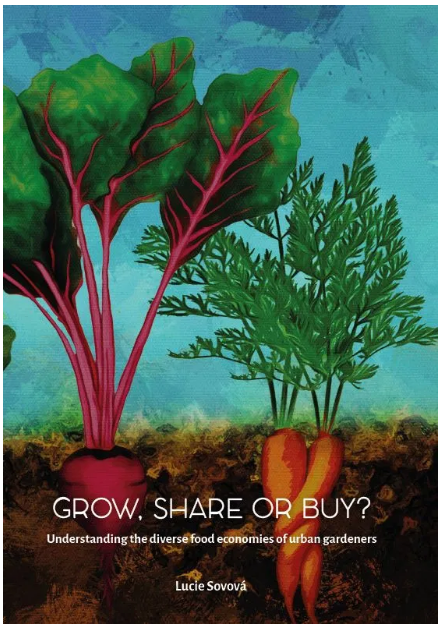 The research contributes to the broader discussion about more sustainable ways of food production and consumption, alternative food networks and urban agriculture. Research on sustainable food systems is often biased towards initiatives embedded in market relationships (Rosol 2020). Literature on urban gardening in global North mostly focuses on a specific kind of this practice (community gardens), and it discusses the multiple non-productive functions of these spaces, such as community building (Veen et al. 2016), place-making (Koopmans et al. 2017) or the improvement of urban environment (Timpe et al. 2016). Another stream of literature presents urban gardens as activist spaces questioning the status quo of neoliberal urbanism (Tornaghi 2017, McClintock 2013). This literature recognizes the potential of urban gardens to contribute to localized and sustainable food provisioning (Kosnik 2018). Nonetheless, actual data on food self-provisioning (FSP) in urban areas of the global North remains insufficient (Taylor and Lovell 2013).
Furthermore, some geographical areas seem to be excluded from the debate. FSP is wide spread in the post-socialist countries of Central and Eastern Europe (CEE): 50% inhabitants of the region grow some of their food, compared to 10% in Western European countries (Alber and Kohler 2008). Despite this potential, lessons from CEE are only recently appearing in the literature on urban gardening or alternative food networks. This discrepancy can be explained by an unequal geography of knowledge production, in which CEE rarely figures as a source of original knowledge (Jehlička 2021). In light of the failed experiment of state-socialism, CEE countries are often regarded as underdeveloped and in need of catching up with the West (Kuus 2004, Müller 2019). This transition discourse results in the framing of local informal economies (such as FSP or informal food sharing) as remnants of the past which will be eventually substituted by market economy (Alber and Kohler 2008, Acheson 2008). My research adds to more emancipatory works showing the relevance of these traditional practices for sustainable food provisioning (Jehlička et al 2020, Goszczyński et al., 2019, Mincyte 2012).
My theoretical approach is further inspired by the diverse economies framework (Gibson-Graham 2008) which points out that economic practices are not limited to capitalist markets and monetized transactions, and which calls for attention to alternative, nonmarket and informal economies. This approach is increasingly adapted in the study of more sustainable food provisioning, which recognizes the importance of economic arrangements fostering social justice and environmental wellbeing (Rosol 2020, Tornaghi 2017, Morrow 2019). It is also particularly pertinent for the post-socialist context, seemingly caught between the gloomy heritage of state socialism and the sweeping neoliberalization of the last three decades.
Recent representative surveys show that the share of Czechs involved in FSP remains steady at around 40% of the population, spread equally across income groups and educational levels (Smith and Jehlička 2013, Jehlička and Daněk 2017, Sovová et al 2021). Unpacking these statistics, my research assessed the role of FSP in terms of quantity of food produced as well as its position within broader food provisioning practices and the diverse economic arrangements they constitute. Inspired by the perspective of social metabolism (González de Molina and Toledo 2014, Burger Chakraborty et al. 2016), I used food logs to monitor the flows of fruits and vegetables entering and leaving respondent households. These flows were categorized based on the type of economic arrangements as non-market, alternative-market or market economies. Using conceptual borrowings from social practice theory (Reckwitz 2002, Shove et al. 2012), I further investigated the meanings and competences these material flows entailed.
The field work consisted of four rounds of data collection of one month, spread over the course of one year. During each round, respondents recorded fruits, and vegetables which they produced at their gardens or obtained from other sources. Next to the amount, type and source of food, they also kept track of the use of these foods, i.e. own consumption, preserving, sharing or other forms of distribution. The purpose of the multi-staged research design was to observe seasonal variations and to gradually build theory with the respondents' participation, accompanying the quantitative accounts with a qualitative understanding of their food provisioning practices.
The results reveal complex interactions between gardens, other food sources, respondents' eating habits and dietary preferences. FSP plays a central role in gardeners' food provisioning practices. The gardens provide a significant amount of food, covering on average one third of fruits and vegetables consumed in gardeners' households – results consistent with a national survey using self-reporting (Sovová et al 2021). In addition, respondents' experience as producers shapes their food provisioning practices beyond FSP. Home-grown food is seen as the best in terms of taste, freshness and transparent origin. This creates a hierarchy of food sources, in which FSP and other nonmarket and semi-formal food provisioning practices (e.g. receiving home-grown foods from family and friends, foraging or buying directly from producers) are preferred over shopping for food in conventional venues. Alternative food networks typically associated with conscious consumerism (community supported agriculture, farmers' markets, organic food shops) were marginal in respondents' shopping practices. Instead, they provisioned food from a number of diverse channels spanning market and nonmarket relations, in which social relations merged with environmental considerations and subjective notions of food quality. The centrality of FSP in these practices also resulted in strong seasonal patterns in both food sources and diets.
None of the respondents aimed to be fully self-sufficient, nor did they grow their own food in order to save money. Instead, they saw gardening first and foremost as a hobby. The link of this way of food provisioning to leisure, fulfilment, and, broadly speaking, gardeners' identities, strengthened the position of FSP in gardeners' food provisioning practices. Similarly, other informal and semi-formal food practices were often grounded in social relations, such as visiting family and acquaintances in the countryside. Gardeners' food practices also contributed to fostering social relations, for instance when they shared home-grown food with others, a practice which was common for most respondent households. Indeed, FSP is a generous practice in which the joy of sharing and appreciation of home-grown food prevails over expectations of reciprocity or economic considerations, as also documented by Daněk and Jehlička (2017) or Pottinger (2018).
While practiced as a hobby, FSP is mobilized as a food provisioning practice through a number of specific competences. Using the conceptualizations of social practice theory, I interpret FSP as intersection of two sets of practices, those relating to the garden ('gardening'), and those relating to the kitchen ('food provisioning'). Based on both quantitative and qualitative data, I identified four different types of relations between gardening and food provisioning. Put simply, some respondents were keen gardeners but did not necessarily integrate their harvest into their diets. Others strived to eat plenty of fruits and vegetables but were not always successful in their gardening efforts. Gardens are multifunctional spaces which hold different meanings for different users. Using the gardens as food sources requires not only gardening and cooking skills, but also coordination and integration of both on a daily as well as seasonal basis.
My research shows that when thinking about sustainable food provisioning, scholars and practitioners need to look beyond market venues and beyond people's roles as consumers. The search for future-proof urban food systems cannot be restricted to environmentally-minded affluent Westerners, but it needs to consider everyday practices already existing in diverse contexts. I have shown that there is a plethora of under-researched informal food practices whose potential for sustainable provisioning, diverse economic arrangements and mutually beneficial human–nature relations merits further investigation.
Sovová, L. (2020). Grow, share or buy? Understanding the diverse economies of urban gardeners. Wageningen University. https://doi.org/10.18174/519934